About my House
I live about two kilometers from the train station and the beautiful historic center of Castiglion Fiorentino, an Etruscan town near to Cortona in Tuscany. Our big, quite house, in the tranquillo and colorful countryside is located in the middle of a nursery where you can enjoy the sight of olive-trees, cypress trees and many other plants typical of Tuscany.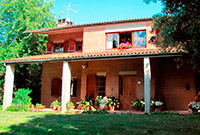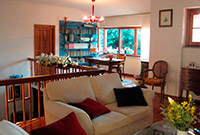 From the front of the house you see a large garden, while at the back there is a huge balcony from which you can admire the gorgeous landscape of the Medieval "MONTECCHIO CASTLE and the sweet hills surrounded Castiglion Fiorentino and Cortona.
The space inside my house is quiet and colorful with two elegant and comfortable living rooms. There are three bedrooms, three bathrooms, a gym/workout room and a large kitchen, which is the most lived in space in the house.
YOUR ROOM(S)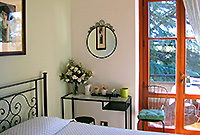 Our availability is for A SINGLE ROOM ( "the woman in green" room) with a big single bed and "the yellow room": a MARRIAGE/TWIN BEDDED ROOM. They are elegant and comfortable, with a big wardrobe, a desk , a kettle with a large variety of teas , coffee and the Wi- Fi connection .There is a shared beautiful bathroom with bathtub and a shower.
In addition both bedrooms have a large balcony overlooking the green hills typical of Tuscany and the enchanting Medieval Montecchio Castle.
In summer, you can sunbathe and/or drink a glass of Chianti wine in a very relaxing and calm ambiance.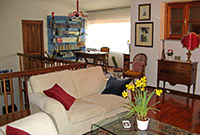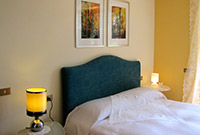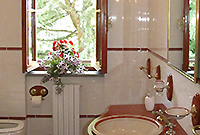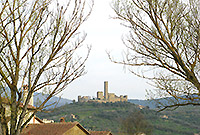 ABOUT MY FAMILY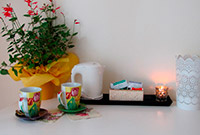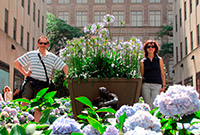 I am married to Maurizio. My husband is a very friendly man who works at a bank in Cortona.
We do not have any children. We are a very happy couple who like to travel. Our next travel dream is to visit Japan and Thailand. We love to experience other cultures and customs. We also like eating all good food including, Mexican, Japanese, Chinese and Thai.
We are a very sociable couple who like inviting friends for dinner, especially to eat my home made pizza and drinking good wine together.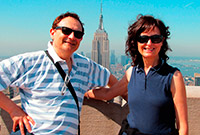 In my spare time I like walking, gardening, reading and of course cooking. My favorite meal is pasta with vegetables and tiramisu!
Maurizio enjoys taking pictures of landscapes especially when we travel.
Last, but not the least, we both love going to the Spa, visiting museums and enjoying Old Master paintings. We try to enjoy life as much as possible!