Italian in Tuscany - Testimonials
SANTA CHIARA SUDENTS
Students from Santa Chiara Study Center in Castiglion Fiorentino
(Study Abroad Programs)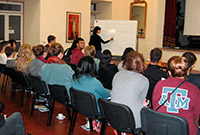 Grazie mille! Ho imparato molto e le tue lezioni erano molto divertenti ! Spero che questo è corretto..They were very useful. I wish I had more!
(Kim - University of Texas)
I enjoyed the lessons cause they were interactive. I feel like I learned a lot good words/ phrases that I could use confidently.
(Elizabeth - University of Texas)
Grazie mille Rossella!Thank you for teaching CAL POLY Italian! Your personality made the classes very fun and entertaining.
(Paulina - Cal Poly University)
Thank you very much for giving us the gift of Italian. Our stay here was amazing, since we could embrace the culture even more with the language.We will never forget you.
(Amanda R. - Cal Poly University)
I appreciated how she taught us only what we needed to know to get by like ordering food and asking where things were..I feel like I learned a lot from the few lessons with her.
(Anna V. - Tamu )
Grazie mille Rossella! I really enjoyed your classes and I wouldn't change a thing.
(Carol B. - Tamu)
Absolutely loved our learning time with you! Your spirit shall live on!
(Rachel - UT)
Thank you for the Italian lessons! Her lively personality kept us awake even when we were close to nodding off. Her Italian lessons helped us navigate Italy much more easily.
(Thaonhi - UT)
Thank you for the Italian lessons! They were very helpful for understanding the basics and the culture, like what is polite to say and how to explain what you are trying to say.
(Sam F. - UT)
Prof. Smilja Milovanovic
July 21, 2014
To Whom It May Concern,
It is my pleasure to write a letter of recommendation for Rossella Faralli.
I have known Rossella for the last 10 years as instructor of Italian language to my group of students from the University of Texas. She is an extraordinary educator who teaches with fervent enthusiasm. Rossella is also a very passionate tutor of Italian culture and she generously shares that passion with her students. During the course of a semester she organizes numerous cultural activities that give students the opportunity to speak Italian in settings outside the classroom. For example, she takes students to the Friday market in Castiglion Fiorentino where students can purchase produce practicing their Italian. She has also organized pizza-making events with a local family and organized group sing-alongs for cultural events. I find her to be hardworking, self-motivated, loyal, self-sufficient, persistent and inspirational to all students.
My students are very fortunate to have Rossella as both a language and culture guide who instills a love for Italy and the Italian people. She has become a very important educational component of the University of Texas group each semester.
Without hesitation, I strongly recommend Rossella Faralli for the position she is applying. The organization that employs Rossella will be very fortunate.
Do not hesitate to contact me if you have any questions.
Sincerely
Smilja Milovanovic-Bertram
Director, Study in Italy
School of Architecture
Prof. Philip Pregill
During the past ten years, Rossella Faralli has been the Italian language instructor for the Cal Poly Pomona, Landscape Architecture Italy Program at the Santa Chiara Study Center in Castiglion Fiorentino, Italy. Mrs. Faralli has been an excellent language teacher for the students. Through here instruction, students acquired both a facility with the Italian language and an appreciation for the Italian culture. Her instructional style combines logic and energy into a format that students respond to positively. I have also had the opportunity to receive Italian language instruction from Mrs. Faralli and I have found her lessons to be focused and informative, with an emphasis on pronunciation, vocabulary, and grammar.I highly recommend Rossella Faralli for Italian language instruction.

Nel corso degli ultimi dieci anni, Rossella Faralli è stato il maestro di lingua italiana per la Cal Poly Pomona, Paesaggio Architettura Italia Program presso il Centro Studi Santa Chiara a Castiglion Fiorentino, Italia. La signora Faralli è stato un eccellente insegnante di lingua per gli studenti. Di qui l'istruzione, gli studenti acquisito sia una struttura con la lingua italiana e un apprezzamento per la cultura italiana. Il suo stile didattico unisce logica e l'energia in un formato che gli studenti rispondono positivamente. Ho anche avuto la possibilità di ricevere l'insegnamento della lingua italiana dalla signora Faralli e ho trovato le sue lezioni ad essere focalizzati e informativi, con particolare attenzione alla pronuncia, vocabolario, e grammar. I consiglio vivamente Rossella Faralli per l'insegnamento della lingua italiana.

Philip Pregill
Professor
California State University, Pomona
Patricia Perata
July 25, 2014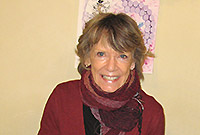 To Whom It May Concern:
I am pleased to be able to highly recommend Rossella Faralli as your Italian language teacher. I had the pleasure of being her student, both at a private language school where she taught and as a private student.
Rossella has excellent communication skills and makes learning the complex Italian language a fun and interesting venture. She has a good command of the English language, which is indispensible when you have need of an in depth explanation. She is very, very patient and makes learning a fun event.
Rossella has many years of experience with students of all ages. She does not just teach Italian, she has you "live" Italian with many fun events and immersion in the community.
Her dedication to her students is reflected in her popularity among all of her students.
I am certain that you will find Rossella delightful!
Sincerely,
Patricia Perata
Cortona, Italia
Barry and Karen Noakes
We really benefit from our lessons with Rossella as they are very personal and tailored to what is relevant to us, so we learn to converse on subjects that help us in our daily lives. As we learn in a friendly environment the lessons are always enjoyable, even when we are doing grammar!
We would recommend her and her excellent teaching skills to anyone who is keen to progress with the Italian language.
Barry and Karen Noakes
Tuoro sul Trasimeno
Umbria