General information
Information about the lessons for foreigners living in Tuscany or visiting it temporarily
Italian in Tuscany 's purpose is to teach the Italian Language not only to people who have already been living in Tuscany, but also to those tourists visiting Italy for a short time , who do not want to give up learning Italian with a twenty years experienced teacher.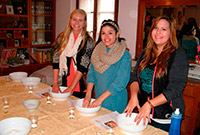 ITALIAN IN TUSCANY will be available in the beautiful towns (and their surroundings) of Cortona , Castiglion Fiorentino, ,Arezzo, Monte San Savino , Lucignano and the Trasimeno Lake Area.
Every lesson (one hour and a half)will focus mainly on learning basic Italian covering vocabulary, pronunciation and grammar to practically communicate in "every day life".
It would be a pleasure for me to come to you in your environment, having our lesson in a relaxing, comfortable atmosphere or we could opt for a cappuccino at a local bar or a delicious meal at a local Tuscan restaurant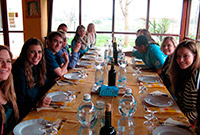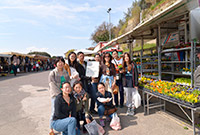 On request ,there will be also the possibility to visit the local weekly market with your Italian tutor. This activity is very important because you will have the possibility to practice directly your Italian with the native people which not only be enjoyable but also a chance to know more about the peculiar Italian culture and traditions.
What fun! Discovering how to ask in Italian to taste the large variety of delicious Tuscan cheese, the cold meats and salami or the typical "porchetta".. as well as the very fresh fruit and vegetables directly from the local area!
It is my experience,my knowledge of visitors to Italy and my great love for my job that led me to start this new venture and I look forward to meeting you in the beautiful Tuscany!
GOOD TO KNOW: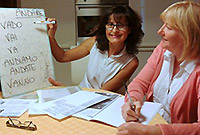 There is the possibility to decide the frequency and the lenght of lessons you want.
There is the possibility to attend intensive and personalized courses where you are staying.
Reservation required.
Special discounts will be applied for more than 3 lessons booked and for families
DO NOT HESITATE TO CONTACT ITALIAN IN TUSCANY FOR OTHER INFORMATION OR DETAILS
It will be a pleasure to respond to you promptly with any information you desire.