Italian in Tuscany - Local Amenities
The house is located about two kilometers from the bus-stop for Arezzo or Cortona and the local railway station of Castiglion Fiorentino from which you can easily reach the beautiful towns of Florence (1hour ½), Rome (2 hours), Perugia (40minutes) or Siena, Pisa, Lucca and many other famed towns.
You can also visit interesting local Etruscan museums in Cortona, Castiglion Fiorentino and Chiusi.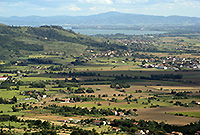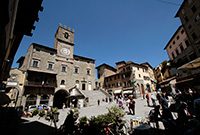 During summertime there are many traditional historical cultural events as the horse race the Palio dei Rioni in Castiglion Fiorentino or the Saracen Joust in Arezzo (an ancient game of chivalry) or the amazing Mix Festival, in Cortona: a blaze of music, ballet, concerts, operas, lectures along with wine/food tastings and the international Cortona on the Move photography exhibit.
You can also enjoy the many local food festivals " the Steak Festival" in Cortona "the Boar Festival", and" the Pizza and Pasta Festival "in Castiglion Fiorentino, and not to be missed, the various truffles, mushrooms and chestnuts festivals!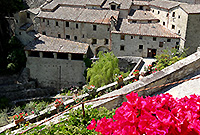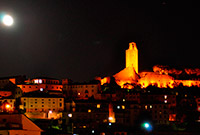 Throughout the year, there is the possibility to experience delectable cooking courses along with many wine, olive oil and cheese tastings.
If you like walking or bike riding the local hills and valleys offer a great variety of paths to walk or ride on. If you are very ambitious you can walk the famous "Path of the Reclaimed Land" (Il Sentiero della Bonifica").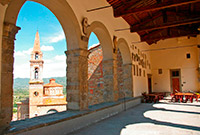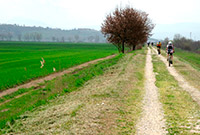 This is an extraordinary journey along the Canale Maestro della Chiana, the pedestrian path that connects Arezzo to Chiusi. It is a distance of approximately 62 km equipped and protected for those traveling slowly, by bike or on foot. You will walk or pedal the heart of the "Etruscan World", along the path of myriad waterways, in a land that has been shaped by the power of nature and the strength of the hands of man.