About Me
My name is Rossella Faralli, I live in Castiglion Fiorentino, a historic small town situated in Tuscany between Cortona and Arezzo.
I am an instructor of Italian language with a great passion along with my strong desire to know other cultures.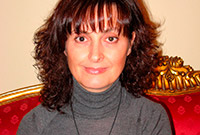 I received an undergraduate degree in Foreign Languages and Literature at the University of Siena.
I also took specialized courses to teach Italian As a Foreign Language in Florence and Bologna.
I then commenced teaching Italian for private Schools for Foreigners in Cortona, Arezzo, Montepulciano and Bologna.
For more than twenty years I have been teaching Italian in Castiglion Fiorentino, for study abroad programs offered by Texas A&M University, the California Polytechnic, Colorado State University and recently the North Cina University of Technology in Beijing.
Moreover,I have given private lessons to many foreigners in particular from the USA, Europe and Japan , who have lived both in Tuscany and Umbria. My knowledge of different cultures has enabled me to personalize my lessons according to the students' aims and needs.
With many years of teaching experience I have created my personal method to instruct Italian: starting from the lexical and grammar approach my students will be stimulated to acquire the tools and the necessary strategies to communicate and interact in real use situations. Focusing on this we will practice the language and fully experience the Italian culture through participation in the life of the local community.
Now my project is also to teach Italian independently, putting to good use all my experiences and Knowledge in this field.
Last but not the least, I am interested in travelling, other cultures, walking, cooking, vegetable garden, art, animals and classical music.
Thank you.
I look forward to meeting you and exploring Italian and the BelPaese together in Tuscany.