Enjoyable activities
Experience and improve your italian with enjoyable activities
The following activities, which are highly recommended, are mainly meant for those beginners and intermediate students who need to learn and practice the basic structures and vocabulary experiencing the real Italian life with their instructor.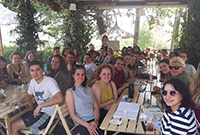 All the activities will be preceded by preparatory lessons for the visit to be carried out.
All these enjoyable activities have been successfully tested and experienced during many years of professional teaching. Italian in Tuscany believes that the best way to learn a language is to interact directly with the Italian community in the daily life.
LEARN HOW TO CONVERSE AT THE BAR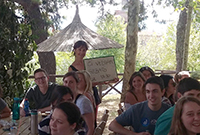 This activity will last 1hour and a half. It is for a minimum of 2 students to a maximum of 10.
The students will experience how to interact in a normal conversation at the local Bar. It will be useful and interesting to learn the vocabulary of the several products served by seeing them directly. While ordering and drinking your coffe, your teacher will also tell you lots of information about the Italian habits at the Bar and not only..!
LEARN ITALIAN AT THE OPEN MARKET
This activity will last 1hour and a half. It is for a minimum of 2 students and a maximum of 10.
At the weekly open market, the students can practice how to ask for tasting some cheese or buy fresh fruit and vegetables or some typical cold meat ("la porchetta"). Shopping here can be not only enjoyable but also an opportunity to be completely immersed in the local culture.
LEARN ITALIAN AT THE SHOPS
This activity will last 1hour and a half. It is for a minimum of 2 students and a maximum of 10.
After the students have decided which shop they prefer to go to then they can experience how to interact with the shop assistants. For example, in a cloth or shoe shop they can ask to try on something or have their right size, etc. It will be pleasant and stimulating to practice your Italian here!
LEARN ITALIAN VISITING AREZZO
This activity will last about 3 hour and half and normally it takes place in the morning.
You will have the possibility to visit the beautiful town of Arezzo by train or bus.
With your Italian tutor you can visit the main buildings and places in the historical centre of Arezzo : learning Italian while walking it will be nice and relaxing for you! Of course, it will be a pleasure to stop at the oldest and most famous Bar in the town as well as take a delicious ice-cream in the best place of Arezzo!
On request, there is the possibility to have lunch with your Italian tutor in one of the best restaurants in town.
LEARN ITALIAN COOKING PIZZA AND PASTA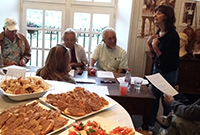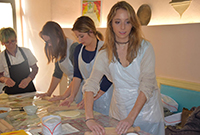 What about learning Italian Language while making Pasta or Pizza with your Italian tutor in a local place?
If you want to experience how to make Pizza tough or the typical Tuscan Pasta while learning some Italian, join Italian in Tuscany!
This activity will last about 3 hours, it will be generally in the afternoon, including meals.
Minimum of participants: 8 Maximum: 15