Italian in Tuscany - On Line Lessons
Italian in Tuscany offers you the possibility to learn the Italian Language On Line. Learning a language on Skype is very flexible, effective and fun. Interactive one-to one tuition will answer your needs and meet your ability.
The lessons simultaneously address both the spoken and written language.
Italian in Tuscany will provide all lesson levels, on one hand, you will have the opportunity to learn the basic Italian language through easy and functional written and oral exercises; and on the other hand, you can deepen and consolidate your Italian by lexical and grammatical analysis of authentic materials on interesting topics or other effective drills.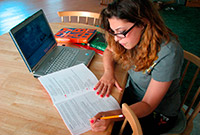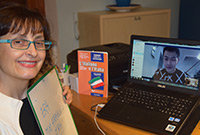 Every On Line lesson is 75 minutes
Interactive one-to-one tuition or very small groups (three students max)
First trial lesson is FREE: the program, the book*, the number of lessons and the time will be decided here.
Previous written test will be mailed
Extra handouts will be available
MY CHARGE AND LESSONS PACKAGES:
Prices per person for one lesson
(75 min.)

:
| Number of students | 1 lesson | 8 lesson package | 16 lesson package |
| --- | --- | --- | --- |
| 1 | € 25,00 | € 180,00 | € 320,00 |
| 2 | € 20,00 | € 140,00 | € 240,00 |
| 3 | € 17,00 | € 120,00 | € 200,00 |
* Book is not included in the price
* Any scheduled lesson that is cancelled whitout firstly giving at least two (2) hour notice of cancellation shall be immediately due and payable.
ENROLLMENT, PAYMENT AND CONDITIONS:
For your ENROLLMENT, please fill out the form below:
PAYMENT must be made with PayPal or a Bank Transfer
Payment must be received PRIOR to the start date of lessons.
Italian in Tuscany will send you proof of payment and details regarding the lessons.
NB: without prior payment, your enrollment and booking will be cancelled.
Money is non refundable. Italian in Tuscany will make every attempt to reschedule the lessons.
For more details and information, please do not hesitate to contact ITALIAN IN TUSCANY.
Thank you